About The Hatfield, Belfast
History is never far from the surface at The Hatfield, a listed building, you can't miss the distinctive tiled frontage as you make your way along Belfast's busy Ormeau Road. It's been a fixture in the local community for almost a century-and-a-half now. 
A family affair…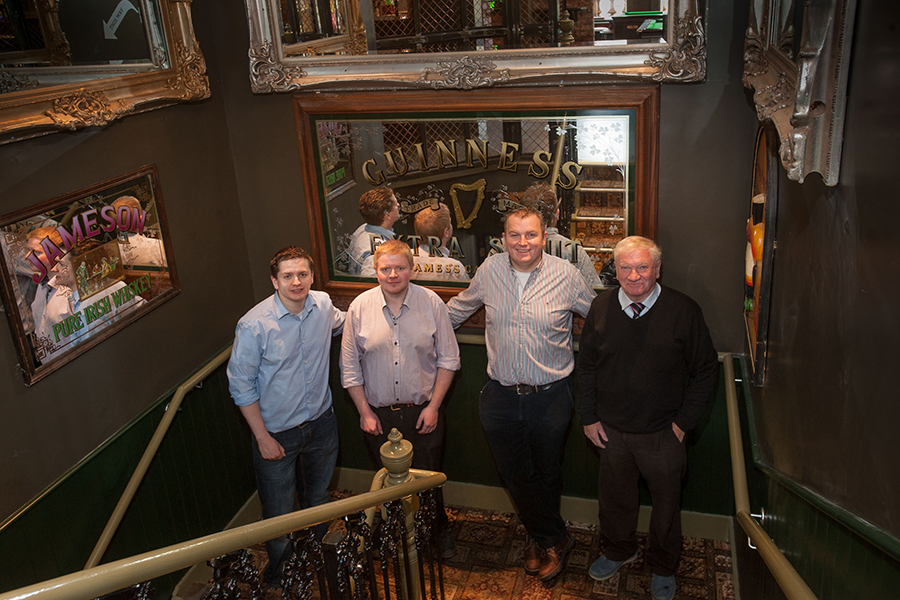 The Hatfield House was built in 1871 with an ornate hand carved horseshoe counter that was constructed by the same craftsmen who worked on HMS Titanic. A replica of the bar was aboard the HMS Titanic and is now lost to history.
Owned by the Cassidy family, Kevin Cassidy came to Belfast from Draperstown when he was 18-years-old. He worked and managed many of the city's bars and eventually brought the Hatfield House in 1976. He worked all of the hours he could and his son, Kieran, started in the bar when he was just 12-years-old in order to spend more time with his dad.
There have been few changes to the comfortable horseshoe bar on the Hatfield's ground floor since a large scale refurbishment of the front of the premises went ahead in 1995. A frequent venue for Irish traditional music sessions, poetry readings and arts events, this evocative and comfortable old lounge is actually a replica of the horseshoe bar on the Titanic and was, in fact, originally built by the same group of Italian craftsmen who worked on the ill-fated liner.
"There's so much history in the bar, it's all around us," says Kieran. "We've worked in this place all our lives and we've been raised among this. Everything that you see in The Hatfield is original, both inside and out. Many of the people that visit us can't believe it, especially the tourists, they'll ask us 10 times, "Is this all original..?""
Kieran himself has worked behind the bar at the family pub for the last 26 years and his father, Kevin, marked his 40th year there only recently. Kieran's two younger brothers – John and Stephen are also involved in the business.
"It's such a huge thing for us, it takes up all our lives but we love it," adds Kieran. "My dad worked in here all through the Troubles and even back then, we were known for staging arts evenings and poetry readings."
Author and Beirut hostage, Brian Keenan was a regular customer at The Hatfield during the 90s and the bar has a formidable reputation as a venue for live rock, folk and traditional music. Holywood actor Tim Robbins has performed with his blues band, Rogues Gallery, four times at The Hatfield since his first appearance there in 2004.
Predictably, perhaps, it's also a venue much favoured by filmmakers. It's been used in a variety of successful movies including Titanic Town, starring Julie Walters and A Belfast Story with Colm Meaney.
As for Kieran and the family, they couldn't be happier with the recent redevelopment: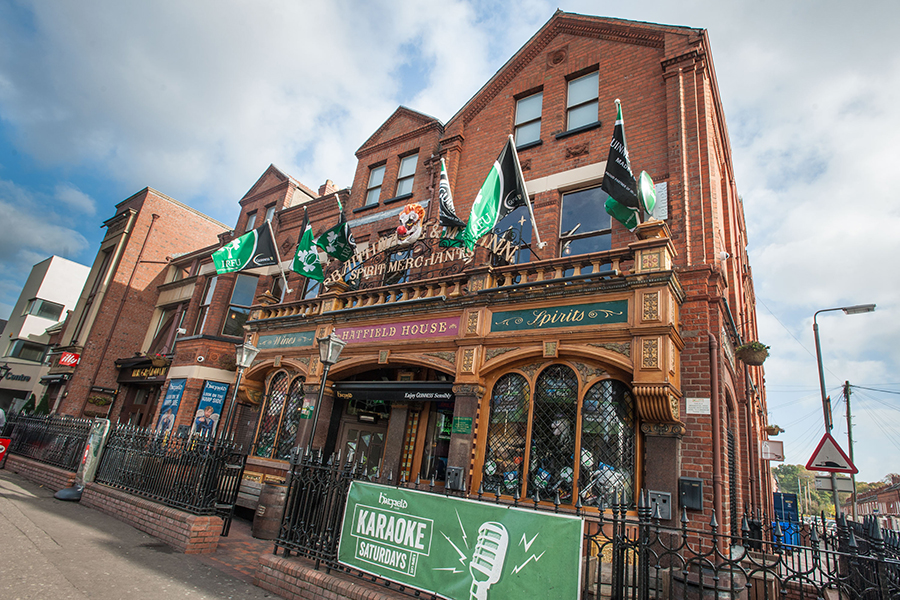 "We're absolutely delighted, my dad is just blown away by everything and we can't believe just how well it's turned out," he adds. "Our priorities now are really to market the place and let as many people as possible know about us. We're very excited, we feel that we've done our best to secure everyone's future in the business and we're delighted with how it's gone down, people are telling us that they've not seen anything as nice anywhere else."
The Liquor Library is testament to The Hatfield's well-established reputation as a venue for sporting events. The lounge – which opened to the public in the middle of October – now boasts a staggering 30 LCD screens with the capacity to screen six live events simultaneously, four full-sized pool tables and room for 400 visitors at a time.
"Our new function venue will be perfect for corporate events, with the Gasworks site so close, Christmas dinner parties and brand launches," says Kieran Cassidy. "I think that the days when you could just open your doors and expect business to come in have gone. These days, you have to offer food, entertainment and anything else that you can manage."
Call in and sample some of Belfast's most welcoming hospitality, we look forward to seeing you.
Stephen, John, Kieran and Kevin Cassidy.